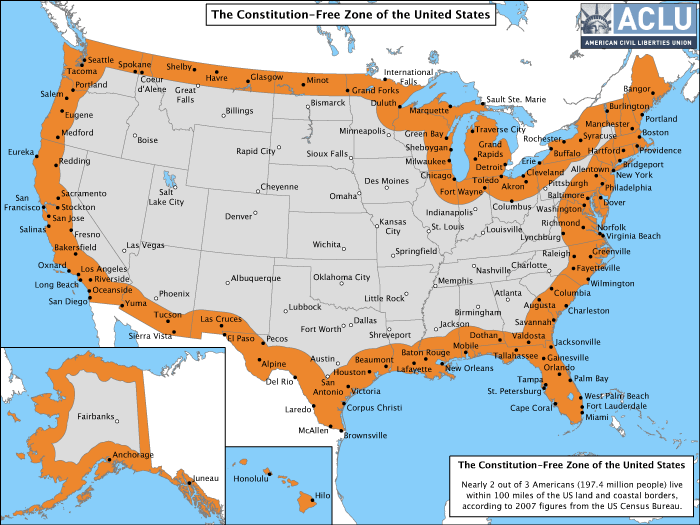 Americans have no Fourth Amendment rights against unreasonable searches and seizures if they happen to be within 100 miles of the border, according to the "Executive Summary" of a still-secret report by the Department of Homeland Security (DHS). As the ACLU-created map above shows, nearly 2/3 of Americans (197 million people)—including the entire populations of Florida, Maine, New Hampshire, Vermont, Massachusetts, Connecticut, Rhode Island, New Jersey, Delaware, Maryland, Washington, DC, and Michigan—live in this "Constitution free" zone, as do the residents of the nation's five most populous cities: New York, Los Angeles, Chicago, Houston and Philadelphia.
The secret report is DHS's response (two years late) to critics of its policy, in place since at least 2008, of allowing border control agents, without a warrant or even a suspicion of wrongdoing, to search any travelers' electronic devices (laptops, cell phones, tablets, cameras, etc.) and seize data they find. According to a Freedom of Information Act request (FOIA) filed three years ago by the ACLU, DHS subjected more than 6,500 travelers—nearly half of them U.S. citizens—to searches under this policy between October 2008 and June 2010.
The Executive Summary of the secret report, which DHS is allowing the public to see, sets forth its conclusions without even summarizing the reasoning underlying them. Thus it asserts that "imposing a requirement that officers have reasonable suspicion in order to conduct a border search of an electronic device would be operationally harmful without concomitant civil rights/civil liberties benefits," but is silent on how DHS defines "civil rights/civil liberties benefits" or how it balances these against its institutional needs.
The ACLU, which has already filed an FOIA request demanding the full report, released a statement arguing that "allowing government agents to search through all of a traveler's data without reasonable suspicion is completely incompatible with our fundamental rights: our Fourth Amendment right to privacy—and more specifically the right to be free from unreasonable searches—is implicated when the government can rummage through our computers and cell phones for no reason other than that we happen to have traveled abroad. Suspicionless searches also open the door to profiling based on perceived or actual race, ethnicity, or religion. And our First Amendment rights to free speech and free association are inhibited when agents at the border can target us for searches based on our exercise of those rights."
Source: All Gov.