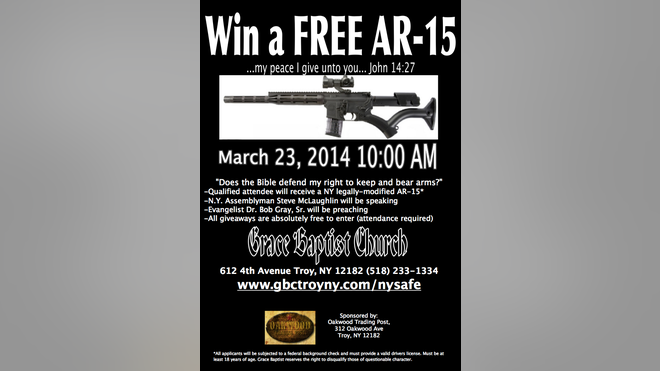 Baptist churches in the Kentucky town that was the site of a deadly high school shooting are giving away steaks and guns to attract more people to their congregations.
According to WJBK Fox 2, churches in Paducah – where three students were killed during a school shooting in 1997 – are hosting "Second Amendment Celebrations," giving away guns to attract more people to the pews.
At Lone Oak First Baptist Church, about 1,300 people crammed into the church hall this month for a steak dinner and pep talk by a gun expert, Chuck McAlister. McAlister was hired by Kentucky's Southern Baptists in an attempt to grow church membership. Twenty-five guns were raffled off during the dinner. Winners were required to pass a background check.
"I brought a gun with me tonight," McAlister told the group. "I know that's very controversial."
"It's the right thing to do."
– Pastor John Koletas
David Keele, a Sunday school teacher,told NPR that the church was accomplishing two things: "One, we're going to talk about the Second Amendment to bear arms. But that isn't the primary thing. The primary thing is who Jesus is."
Grace Baptist Church in Troy, N.Y., will be giving away an AR-15 on March 23. A flier for the giveaway shows the assault rifle — with a quote from the Gospel of St. John: "My peace I give unto you."
The church's pastor, John Koletas, told the Albany Times Union, "I'm just trying to be a blessing and a help to the gun owners and the hunters and give away a free AR-15. It's the right thing to do."
He said the constitutional right to own a gun should not be abridged, any more than First Amendment rights should be, the paper reported.
The winner of the Grace Baptist gun reportedly must be at least 18, undergo an FBI background check and meet all state and federal laws before the gun is handed over to its new owner.
source: Foxnews